Material Detail: "Math Solutions Newsletter"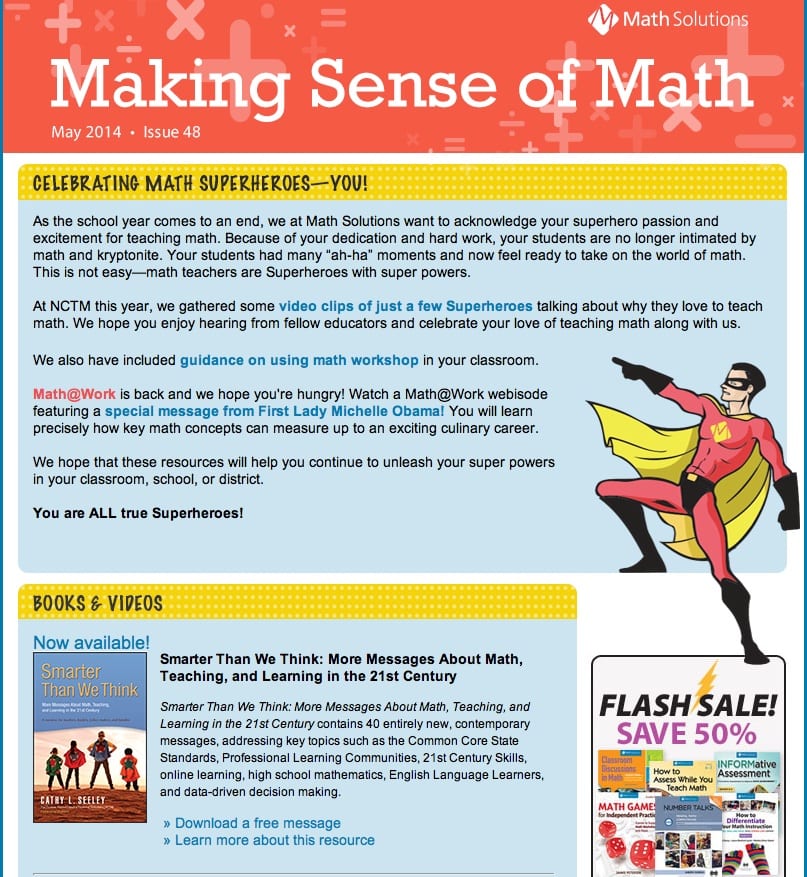 Math Solutions Newsletter
The Math Solutions Newsletter contains over 20 innovative hands-on activities for teaching a range of mathematics concepts in elementary and middle grades math methods courses. Math Solutions is lead by Marilyn Burns, one of today's most highly respected mathematics educators. For more than 30 years, she has been teaching and writing for children, leading inservice workshops, and creating teacher resource materials.
NOTE: This page contains links to the current issue as well as previous issues.
Material Type:

Date Added to MERLOT:

September 23, 2000

Date Modified in MERLOT:

September 4, 2014

Author:

Submitter:

Primary Audience:

Technical Format:
Mobile Compatibility:

Not specified at this time

Language:

English

Cost Involved:

unknown

Source Code Available:

unknown

Accessibility Information Available:

no

Creative Commons:

no
Browse...
Disciplines with similar materials as Math Solutions Newsletter
People who viewed this also viewed
Teacher Education Editorial Board
(Faculty)
16 years ago
"This item has been triaged by the Teacher Education Editorial Board. Although it will not be reviewed, we invite you to add a comment if you have used this item." 7
This is a subset of the Math Solutions Online at http://www.mathsolutions.com/index.html
On October 6, 2001, the reviewer spent approximately 60 minutes reviewing the site.
Quality of Content
Marilyn Burns' products are very popular. The books are easy to read and humorous. Some of the advice provided in this website is questionable. There are suggestions that are too brief and could easily be misinterpreted. For example, "One category includes questions that call for one correct answer, such as when you ask children how much is 4 plus 3, 15 plus 23, or the sum of any two numbers. Questions that have a right answer are most effective for promoting mathematical thinking when they have answers a child can figure out, not when they call for some memorized bit of information." This reviewer suggests that if teachers accept such recommendations, they run the risk of ignoring the importance of automaticity in arithmetic procedures/skills. Also, regarding the discussion about "Should I use timed tests?": The importance of fluency in mathematical skills is not even mentioned. The responses don't appear to be based on research, but on opinion without presenting the pros and cons.
Note: In another section of the website, Marilyn Burns says, "The goal is for all students to develop computational fluency. This means that they should be able to compute accurately and efficiently, ?" However, "efficiently" and "fluency" don't appear to be addressed.

Potential Effectiveness
This site appears to be one for marketing Marilyn Burns Education Associates' work shops and products. The organization has won much acclaim. Most of their suggestions seem to be based on experience. Their instructors seem very enthusiastic about their work. A wonderful addition would be to complement the experienced-based practices with research-based best practices.
The usefulness of this site for mathematics methods courses would be to inform those preservice and inservice teachers that this is a website that has several classroom activities. Also, the user can go to this site if he/she wants to purchase Marilyn Burns Education Associates' products. The preservice and inservice teachers can apply what they have learned to analyze whether these activities meet the educational objectives the teachers are trying to help the children achieve.
Technical Remarks:
Ease of Use



The user will have no trouble navigating through this site.



There is a broken link on the web page at http://www.mathsolutions.com/mb/frames/n_newsletter_frame.html. "Weather information online is available at: http://www.whnt19.com/kidwx" (October 6, 2001, 8:25 p.m. EST).
17 years ago
I spent approximately 45 minutes going through the site. There are good
articles written by classroom teachers that would be helpful to practitioners.
The quality of content:
The advice is based on classroom experiences and the opinions of those with much
teaching experience. Having said that, there are examples where the opinions
do not address the issues in enough depth. For example, the opinions about
timed tests are a bit narrow. There is no mention of when a timed test might be
of benefit...and there are some instances. Similarly the discussion about the
use of calculators does not take graphing calculators into account. It presents
an opinion on using calculators as if the only type of calculator is a
four-function calculator.
The articles written by classroom teachers can provide some good ideas for
effective learning activities. For example, I enjoyed reading "Telephone Number
Totals" by Bonnie Tank and Lynne Zolli.
The parent site, Math Solutions Online at
http://www.mathsolutions.com/index.html , offers more resources and information
for teachers.
Technical Remarks:
Very easy to use this web site.